Man of Masses NTR Jr has never shied away from crediting the women in his life for his success. He has often spoken about how he's where he's in his career today because of two strong females in his life, his mother and wife. While his acting prowess continues to win him lots of love and appreciation from all quarters, it's interesting to learn that he's an incredibly well trained dancer.
Man of masses NTR Jr is a trained Kuchipudi dancer, a dance form from Andhra Pradesh. Right from his school days, at a very young age, he picked up dancing and continued to take lessons till the highest level. Until the age of 17, he performed around the world as a dancer.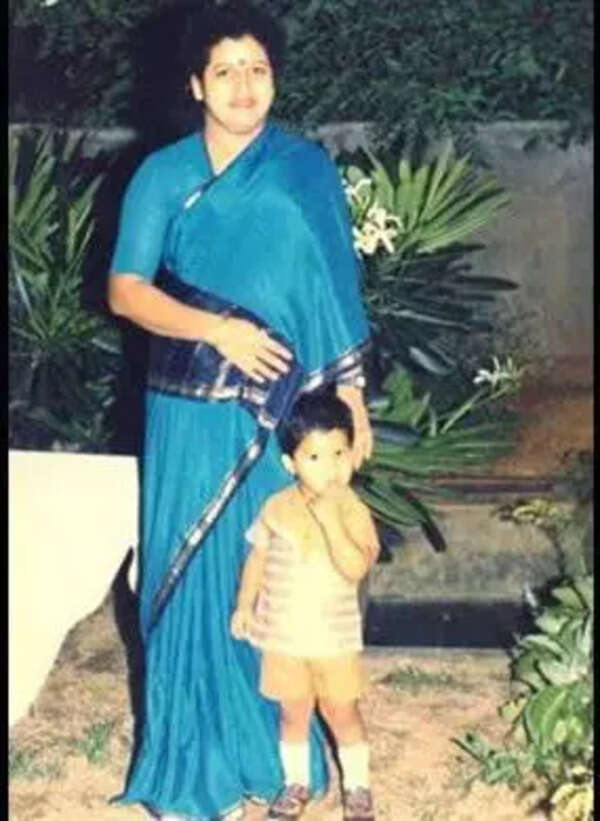 On the occasion of Mother's Day, let's revisit the time when Man of Masses NTR Jr opened up about how he picked up this dance form for his mother. Like every mother-son duo, Man of Masses NTR Jr too shares a very special bond with his mother Shalini Nandamuri. Excerpts from an interview read as, "My mother has been one of the most influential people in my life. She has always pushed me to learn new things which in the long run has immensely helped me in my craft. My mom really wanted me to learn classical dance and therefore I became a classical dancer. As a kid, it was her who inspired me to take up dancing and made me understand that art knows no gender. I performed around the world as a dancer. I was 17 back then when I plunged into acting. Even in 'RRR' song Naatu Naatu, there was extensive dancing, but I really enjoyed it. For me, it's a way to express oneself."
Sweet indeed!
Well, there's truly no denying that Man of Masses NTR Jr gets his strength and persona from his lovely mother who continues to be a significant influence in his life.
1/7
Happy Mother's Day: Meet the inspirational celebrity mothers of Tollywood's superstars
Show Captions
<p>The Telugu film industry is known for its rich history and talented individuals. Behind many successful actors and filmmakers, there are mothers who have played crucial roles in supporting and nurturing their children's careers. These real-life mothers have made significant contributions and have had a profound impact on their children's professional journeys. Let's celebrate and pay tribute to some of these remarkable women.</p><br /><p>Pic courtesy: Twitter</p><br /><p><a target="_blank" href="https://timesofindia.indiatimes.com/entertainment/telugu/web-stories/ileana-dcruz-in-enchanting-sarees/photostory/100202569.cms" class="on">Ileana D'Cruz in enchanting sarees</a>​</p>
<p>Smt. Anjana Devi is the mother of legendary actor and politician Chiranjeevi, power star Pawan Kalyan and Naga Babu. She has been a pillar of support for her sons throughout their career. Chiranjeevi's rise to stardom was not an easy one, and it was his mother who stood by him during the challenging times. Smt. Anjana Devi's unwavering belief in her son's talent and her relentless encouragement helped him overcome obstacles and achieve great success in the Telugu film industry.<br /></p><p><br /></p><p>Pic courtesy: Twitter</p>
<p>Smt. Rajeshwari<b style="font-size: 12pt; letter-spacing: 0px;"> </b>is the mother of popular actor Venkatesh and Suresh Babu, who is a prominent film producer. She hails from a well-known film family herself, as the wife of late veteran producer Dr. D. Ramanaidu. Smt. Rajeshwari has played a crucial role in shaping the careers of her sons. Her constant guidance and support have helped Venkatesh and Suresh Babu establish themselves as leading figures in the industry.<br /></p><p><br /></p><p>Pic courtesy: Twitter</p>
<p>Smt. Vijaya Nirmala was an accomplished actress and director in the Telugu film industry. She is the mother of actor Naresh Vijaya Krishna. Vijaya Nirmala's illustrious career spanned several decades, and her influence on her son Naresh professional life was profound. As a mother and mentor, she instilled in him a passion for acting and guided him throughout his journey.<br /></p><p><br /></p><p>Pic couretsy: Twitter</p>
<p>Smt. Indira Devi is the mother of popular actor Mahesh Babu. She has been a constant source of support and strength for her son, both personally and professionally. Mahesh Babu, often hailed as the "Prince of Tollywood," has repeatedly credited his mother for his success. Smt. Indira Devi's guidance and belief in her son's abilities have played a pivotal role in shaping his career.<br /></p><p><br /></p><p>Pic courtesy: Twitter</p>
<p>Smt. Nirmala is the mother of stylish star Allu Arjun and Allu Sirish and Venkatesh. She has been an integral part of Allu Arjun's journey in the Telugu film industry. Allu Arjun's rise to fame can be attributed, in part, to his mother's unwavering support and guidance. Smt. Nirmala's<b style="font-size: 12pt; letter-spacing: 0px;"> </b>influence can be seen in Allu Arjun's commitment to his craft and his ability to connect with audiences.<br /></p><p><br /></p><p>Pic courtesy: Twitter</p>
<p>The bond between these real-life mothers and their children is extraordinary. They have been pillars of strength, offering unconditional love, support, and encouragement. These mothers have made immense sacrifices to ensure their children's dreams are realized. Their guidance, belief, and nurturing have not only shaped their children's careers but also helped them become responsible and grounded individuals.<br /></p><p><br /></p><p>Pic courtesy: Twitter</p>