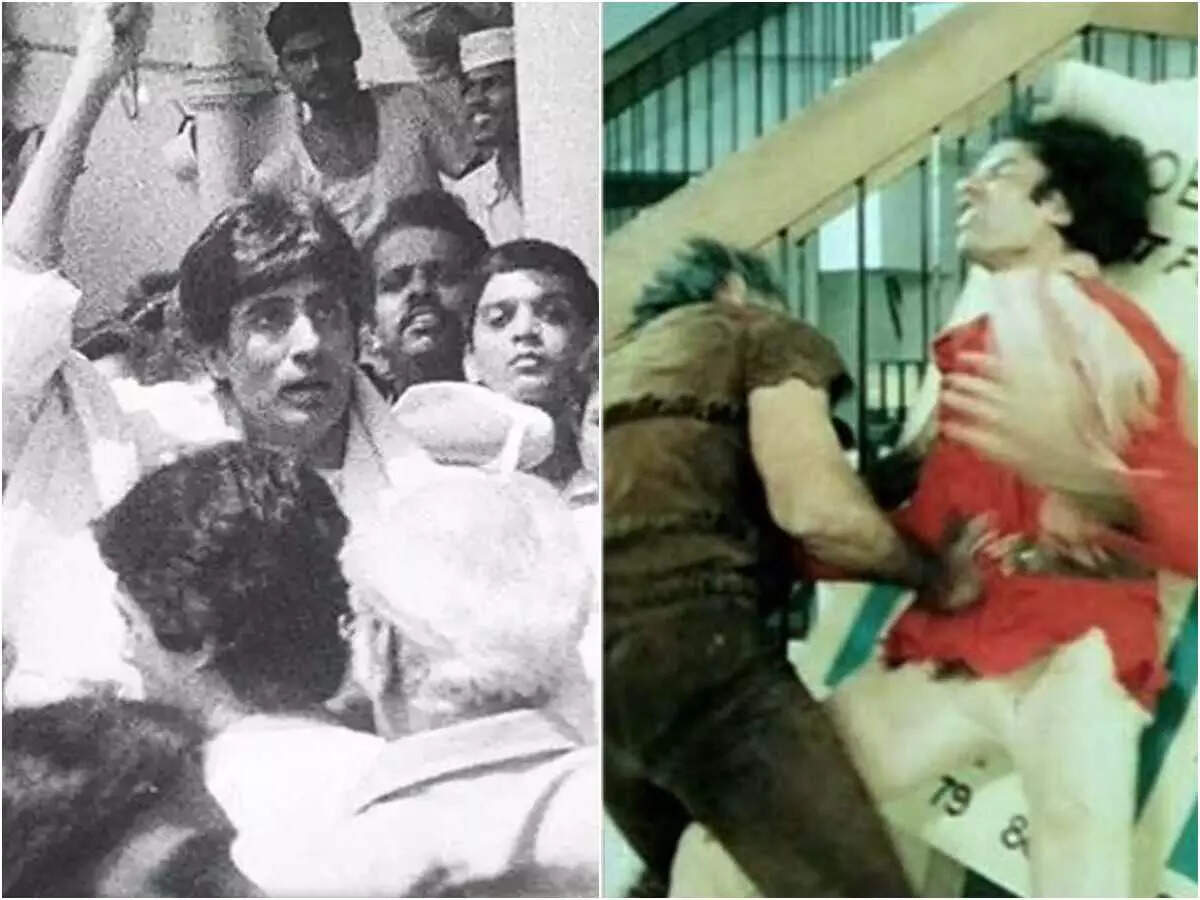 From the time the nation prayed for his recovery for a near-fatal punch on the solar plexus on the sets of Coolie in 1982, to the latest broken rib sustained on the sets of Project K in Hyderabad, one has lost count of the number of times
Amitabh Bachchan
has been pulled out of the jaws of death.
But the illness that left one shell-shocked was in December 2005. Mr
Bachchan
spoke for an hour on the phone from a hospital. He spoke at length on a controversy regarding his presence at a film festival. It was meant to be a visit to a Delhi hospital en route to Mumbai that had spiraled into speculations about his health.
On the fateful day when he was hospitalized and operated upon after a severe stomach pain in December 2005 he was on the phone in the morning painstakingly clarifying a media aberration. In the afternoon one saw the news flash stating he was hospitalized.
That December morning he had said, "I'm fine and there's absolutely no cause for alarm. On Sunday, I was in Lucknow for a function on the occasion of my father's (late poet Harivansh Rai Bachchan) birthday. On the way back to Mumbai, I had this minor ailment. That's all. No need to raise a hue and cry about it when there are so many important national issues that require urgent attention."
Later Abhishek Bachchan had said, "He was talking to you in acute pain from the hospital bed. That's Pa for you." That "minor ailment" confined Mr Bachchan in the hospital for nearly a month. A complicated bowel surgery was done.
Back then, in a twist of irony, trade experts predicted a repeat of the 1983 film Coolie, where Amitabh Bachchan's fans flocked to theaters after his life-threatening accident. However, when he fell ill in December, they ignored his film Ek Ajnabee, despite the fact that he was hospitalized.
Amitabh Bachchan's professionalism is widely known, but perhaps not well enough. As a dedicated workaholic, he has been known to persevere through challenging circumstances without a single complaint. During the filming of Sanjay Gupta's Kaante in Los Angeles, despite suffering from severe back pain and a toothache that felt like labour pains, he not only persevered through the pain but also filmed action sequences, ensuring that the shoot was not disrupted.
While filming Milan Luthria's Deewaar, Amitabh Bachchan spent hours in a cave set that was only 5 feet tall, leaving him unable to stand upright at the end of the day. Nevertheless, he did not utter a word of complaint.
Amitabh Bachchan's willingness to go above and beyond to fulfill his professional obligations is what sets him apart from his colleagues and contemporaries in the film industry. He stands tall and his peers must use binoculars to look up to him.