Mahaakshay Chakraborty is currently on a roll. While his film, 'Rosh' released today, he has some very interesting films in the pipeline and this includes his Telugu debut, 'Nenekkadunna' and his next Hindi film, 'Jogira Sara Ra Ra'. In an exclusive interview with ETimes, Mahaakshay opened up about challenges of working in the South industry, working with ace Bollywood actor like Nawazuddin Siddiqui, a superstar he looks up to in the South industry and more. Excerpts…
The teaser of 'Jogira Sara Ra Ra' looks super fun. How did you come on board for it?
Well, I am very happy that everybody is liking the teaser. It's a very nice, very well-made comedy and I am sure that when it releases, everybody who's going to go and see it is going to love the film.
My casting director's name is Jogi. We all call him Jogi ji. He met me a couple of years ago and I went and auditioned for him. And he had me on his mind. And then suddenly out of the blue, he calls me and says, 'Mimoh, come to the office. There's a film for you'. I went and I heard the script and I liked it. It was an amazing role and an amazing film. He asked if I wanted to do it and I immediately said yes. I auditioned for the film and then within a few days I got a call back and I was on board. So it's been an amazing journey. It was a journey of chance and destiny and fate. So it feels very good to be a part of such an amazing film.
Tell us something about your character in the film. What attracted you to take up the role?
I cannot delve into the details because the producers and director have kept it hidden for now. They want people to go and see how my character shapes up in the film. But I can tell you that what attracted me to take up the role was the challenge. Because it took me a lot of physical challenges. There was a lot of physical transformation for the role which I had to maintain for the entirety of the shooting. And it was a very challenging role because it's not who I am in my daily life. It was something which was very new, very fresh for me which I have not done before in my career. And that really excited me because I really want the people to see this side of me. And this film gave me that opportunity. So there was a lot of physical transformation and body language and conversation techniques which were involved in my character. And of course also how opposite I am to this character.
How was it working with Nawazuddin Siddiqui?
Nawazuddin sir is an absolute maestro. There are many scenes in the film where I am interacting with him. And in fact, the very first scene, the very first shot of the film, like the entire film was with me and Nawaz Sir in it. So of course I was excited and nervous because I was sitting next to this bonafide superstar who has really made his mark and niche in the industry. And he's a superb actor. We all agree with that. So he's a very giving actor. He doesn't think about himself. He's completely invested in the role. There were times when me and him were conversing in lines and then I used to tell him, sir, let's do this. He immediately agrees. And he used to always listen.
He was always a very open actor. And he was a very spontaneous actor. There are so many scenes in the film, which me and Nawaz Sir have done with complete spontaneity. Our director, Kushal Nandy, never used to say cut and keep the camera rolling. These guys are just going nuts and I might use something from this. And there are many scenes in the film which have actually been used because of our improv with each other. So he's a wonderful actor and I have become a better actor working with him.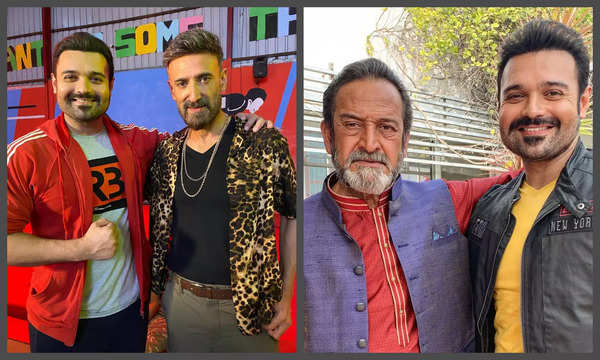 The film also stars ace senior actors like Sanjay Mishra. How was he as a co-star?
Sanjay Mishra sir is a laughing riot. He's such a dude, you know, he's so chill, he's so cool about everything. He always says, 'Arey hone do, no problem. Arey ho jayega, chinta mat karo. Arey kar lenge'. I was very fortunate that even in the film, I got to have scenes with him. When you see us in the film, you will really laugh your butt off because it's so freaking funny and both of us are actually so serious in the scene. But when you watch it from the audience's point of view, it's actually hilarious and that's all because of him. Sanjay sir is a rockstar and I would absolutely love to work with him again.
Mithun Chakraborty's appearance in Venkatesh-Pawan Kalyan starrer Gopala Gopala continues to draw appreciation many years after its release. Now, you are all set to dip your toes into Telugu cinema. How excited are you about it?
I am super duper excited about my Telugu debut because Telugu cinema, South Indian cinema, North Indian cinema, cinema in general in India has become so big and so huge. And I am so happy to be a part of this culture. I am very happy that the walls are coming down, the bridges are being made. Even in Mumbai, whenever I open movie ticket-booking apps, Tamil, Telugu, Kannada, and Malayalam films are screened in the multiplexes. I can actually go and watch them now. So that is so nice because I have grown up in South India. I have grown up in Tamil Nadu. I have watched so many Tamil and Telugu films. So for me to actually now be a part of that culture, be a part of that amazing immersive cinema, I am super excited. I really hope that the Telugu industry accepts me and I get good offers for playing the bad guy, and being this rockstar of a guy in their films. It's just going to be an amazing new chapter for me. So I'm super duper stoked about it.
Tell us something about Nenekkadunna…
Nenekkadunna is a very immersive thriller. It's got action, comedy, romance, suspense elements and great songs. It's got an ensemble cast and I am very happy to be a part of it. I got to work with Rahul Dev, who I worked with in 'Jimmy' and I got to work with Mahesh Manjrekar sir who I worked with in 'Dukka Fid'. It was a film I did after 'Haunted'. So I was revisiting those nostalgic moments with these amazing and legendary actors. Rahul sir is such a darling. We were just cracking jokes on set. And even though we were having these serious dialogues and interactions, after the cut, we were just laughing. Mahesh sir is so focused and he knows exactly what he wants to do. Our director has put his heart and soul into it. So I am really hoping that the people go and watch this film and they really love the film because I really loved working in it.
How was your experience shooting for the film in a language you are not well-versed with?
It was definitely a challenge working in a film which had a language barrier. I did Rocky which was a Bengali film and even there I had this challenge. So I was familiar with the territory because I realised that I had to learn the lines and keep on repeating them. But luckily, I had a very good technical crew. The associate directors and the assistant directors were really helpful and even Madhav Sir, our director, was also very helpful with the dialogues and everything. So I used to first read the dialogues in Hindi, I used to get the emotion, then I used to learn the dialogues in Telugu and then I used to say it. Because that's how I was doing it. This is my first opportunity and I want to give it my 100 percent. And that's how we pulled it off. But it was good, exciting and challenging. And I am looking forward to many more challenges like these in the future Telugu and Tamil films I do.
Do you have actors you look up to in the South industry?
I love watching Tamil and Telugu films, even Malayalam and Kannada. Whenever I get the chance, I sit and watch all these films. I am a very big fan of Vijay. He's a very big superstar in Tamil Nadu and he's one of my all-time favourites. So I never miss any of his movies. And luckily we now have OTT platforms who showcase all South Indian films as well. That's where I get to watch them. But whenever I get the time, I make sure that I go and watch them in the theater as well.