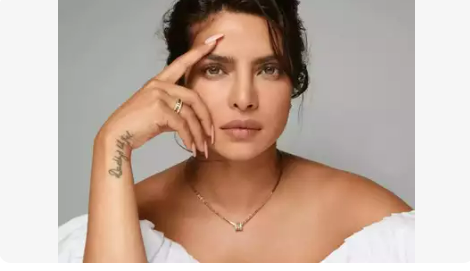 Priyanka Chopra has been busy promoting her movie Love Again, co-starring Sam Heughan, that released in the country today. As part of the same, Priyanka recently played the BFF test with her co-star on a late night show, where the duo answered some spicy, saucy questions about love in general.
When asked whether it is okay to have sex on the first date or not, both PeeCee and Sam agreed that it is fine, provided you are responsible. They both also agreed that it is okay to give out a fake phone number on the date if you are not romantically attracted to that person.
The duo were also asked if they would give up on oral sex or cheese for the rest of their lives. Hearing this, PeeCee could not stop laughing at the idea of putting the two together. Blushing, she agreed with Sam that she would give up on cheese, rather than oral sex.
Priyanka has been talking a lot on her personal life of late. The actor recently appeared on an International show and spoke at length about her daughter's first visit to India and how she loved everything about it. The actor said that Malti loved the sights, sounds and smells of India and the fact that she did not have to wear a car seat, something that made her mother realise that it is going to be difficult getting her into one when they are back in Los Angeles. She further added that Malti was stuffing her face left and right with paneer, going 'mmmm'.
PeeCee further opened up on the kind of support she has at home, that allows her and husband Nick to work stress-free. She also added that no matter where she is in the world right now, she always comes back to Malti. The actor also revealed that between her mother and mother-in-law, she has a lot of help when it comes to her daughter.
Yesterday, the proud mommy also shared that she would happily give up her career and move countries for Malti, no questions asked.