Supermom
Sameera Reddy
is a beacon of inspiration to all parents out there! Having a low day? Just visit her
Instagram
account and you will be hooked to her amusing videos and viral content. Her kids Hans and Nyra also feature in rare appearances and Sameera often ropes in her cool and sassy saasu maa aka mother-in-law too for some feisty content. On the occasion of Mother's Day, ETimes reached out to wonder woman Sameera, who shared her bit on motherhood. Excerpts:
As a mom, one thing that you have learnt from your kids?
The one thing that I've learned from my kids is not to take myself too seriously. I think until I had them, it was really all about me, my life, what people perceived of me. And then I see kids being so carefree, so loving, so simple. And it kind of reminds me of how organic we need to live and how we just don't.
How has motherhood changed you as a person?
I have become extremely adventurous. I suddenly have this lust for life, which funnily I should have had as a youngster in my 20s. But now for my children, I'm extremely greedy for their experiences as well as mine. And that's definitely a big change in me.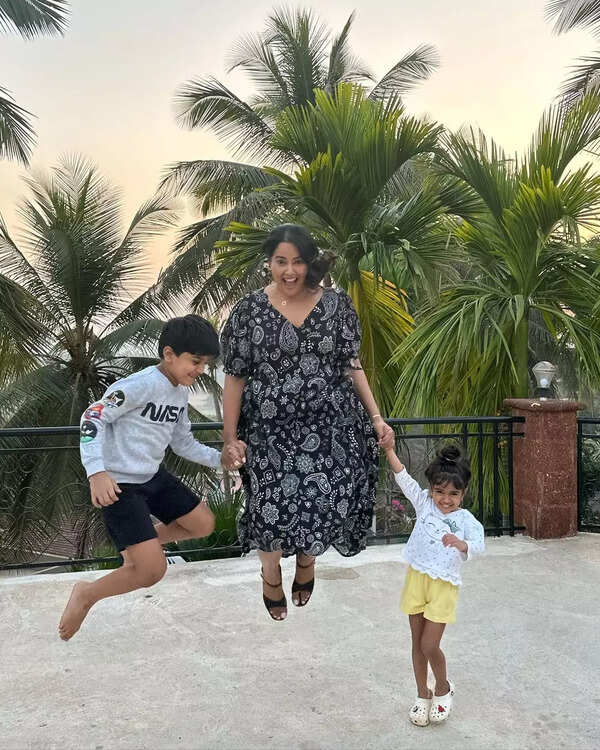 One rule that you have for both your kids?
Both my kids have to be children of the world and extremely inclusive. For me, being kind, being a good person, a kind-hearted person, being sensitive and sensitized to society, is the most important thing for me. That is non-negotiable. My kids cannot grow up feeling entitled. I think that makes the world so scary.
What's your advice to all moms out there?
My advice is please don't follow what other people are doing. You know how to do it, you have an instinct. Moms have an inbuilt instinct, but we seem to think that others know better and we listen to others. I have always followed my heart and somehow I have got it right with the kids. And that's the best advice I can give.
In today's times when some celebs keep their kids away from the limelight, you go all out with fun videos on Instagram. What's your take on it?
I'm very particular about the kids and what I expose them to. We are all about having fun. As I said, we're happiness creators. I discovered this part of me in the pandemic and my children became part of my content because it was an expression of my own anxiety and how we were all dealing together in a world which was very chaotic at that time. Today we continue to do so, and I'm extremely proud of the balance that we share with social media. I take social media extremely positively, while it's become quite an anxious space for most people. So that's where I believe I've struck that simple cord with my kids and how we sort of go out there and connect with the world.