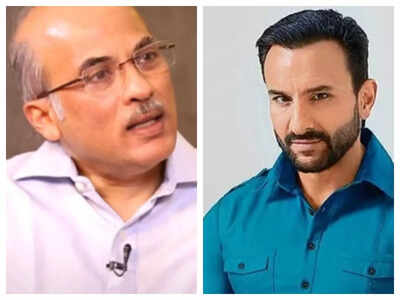 About 24 years ago Sooraj Barjatya made Hum Saath Saath Hain and it had Saif Ali Khan playing a very important role. In a special making video of the film, the director revealed that the actor used to be very nervous on the sets.
Speaking more about it in the video Barjatya revealed that this was the time when Dil Chahta Hai had still not happened and when their films didn't work, the actors were really shaken. Hum Saath Saath Hain was the first time Saif was working with so many names which put him under a lot of pressure. All this led him to work too hard and mug all the lines.
The director also revealed that he had to take help from Saif's then wife Amrita Singh for a certain performance. He stated that during the picturisation of the song Suno Ji Dulhan, where Saif mimics all the males of his family including Alok Nath and Mahesh Thakur, the director was expecting Saif to nail the steps in the very first take but he went on for 5-6 retakes. So he approached Amrita to figure out what was going wrong and she revealed that Saif wouldn't sleep and keep looking in the mirror and keep on thinking how he would do the step. Then Sooraj Barjatya and Amrita Singh hatched a plan and on Sooraj's insistence she gave Saif some medicine so that he can sleep. And the very next day Saif nailed the song in no time!